It was such a pleasure sharing some thoughts on what I believe embodies "southern style" for Floor Covering Weekly's Caroline Alkire. Among those interviewed are some of the most creative professionals in the industry whom I consider cherished friends and I was honored to be among the list. As an interior designer, a native born Daltonian and a design contributor to Floor Covering Weekly, it was a fun reversal of roles to not be in the driver's seat for a change.
Caroline's research provided a thought-provoking topics that, after answering, made me feel extra grateful for having been born and raised in the south. I cherish our roots here in Dalton, Georgia and can personally count back to at least five or six generations of Kikers and Felkers who resided here in the northwest Georgia region. Whether you're born in the south or are a transplant to the south, I hope you read and enjoy Caroline's article as well as the profiles of the other interviewees contained within for your own design inspiration.
Southerners are known for their hospitality and a certain style. FCW asked a few industry friends to share what Southern style means to them and how their home reflects that sensibility. Emily Morrow Finkell discusses with FCW what Southern Design means to her…
Emily Morrow Finkell, EF Floors & design
"Southern style can mean so many things to different people depending on their age, their roots and even their attitude. For me, it means making my family and friends feel welcomed and comfortable the moment they step onto our front porch," said Emily Morrow Finkell, CEO, EF Floors & Design.
To Finkell, Southern style is as commonplace as good etiquette — it's meant to make others feel completely at ease. She believes small details (a soothing color palette or cozy seating) make the biggest impact. The inspiration for her home's décor comes from a somewhat surprising character: her dog Donatella, "the reigning queen of the backyard."
With a dog running around, friends stopping in and family staying over, it's no wonder Finkell focuses on transitional design, comfort, timelessness and longevity. "I value the fact that delicate surfaces don't become the number one priority over spending quality time with those I love," she offered.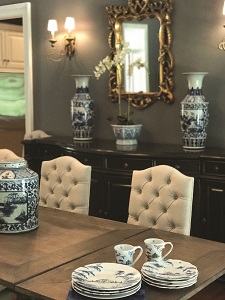 "Medium value colors are my happy place since they still feel light enough but allow us all to maybe spill a little coffee or wipe up some muddy paw prints after a walk," said Finkell.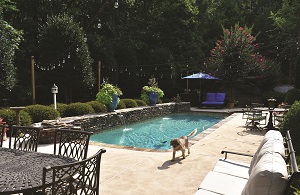 Much of Finkell's home décor is inspired by our dog, Donatella, queen of the backyard. Everything has been tough tested by her…if it can stand up to her paw prints after a walk in the great outdoors, it can stand up to practically anything.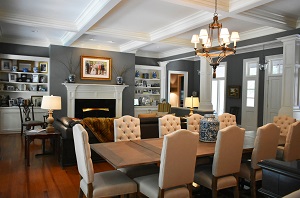 Finkell's favorite design element in the living room area is her culmination of years of blue and white porcelains, some of which belonged to her great-grandmother.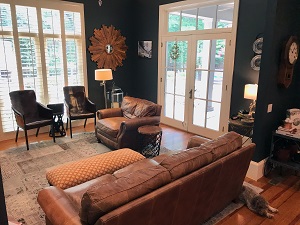 "It would be so easy to go out and select all new pieces and simply discard our existing furnishings, but in my opinion, that also erases the personalities of our home as a family," Finkell said.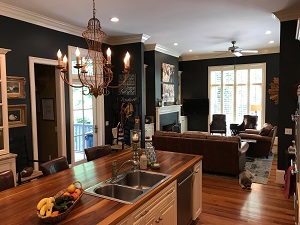 "We congregate around the island of our kitchen which is made of a slab of reclaimed walnut, and within this open-layout space, we do showcase a collection of our treasures we have gathered from all our travel and adventures," revealed Finkell.